Ultima VI The false prophet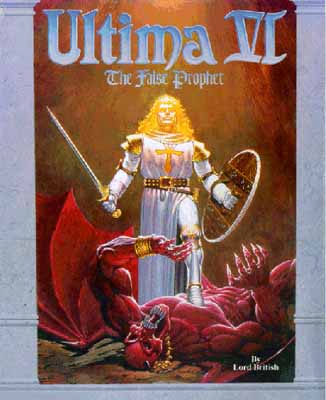 Releasedate: 1990
Publisher: © Origin Systems Inc.
Music by: arranged by Kenneth W. Arnold, composed by Todd Mitchell Porter, Herman Miller (Rule Britannia), David Watson (Stones), Kathleen Jones (Stones)
Quality: High quality 5 OGG (nominal rate 160)
Track 1 Heroes long gone is an Amiga MOD file, which has been remixed by an unknown author and is an excellent remix of the introduction music. It was converted using Winamp.
Ultima 6 The false prophet was released with an excellent musical score on the IBM/MSDOS system. The music was delivered as midi files for the Adlib and Roland soundcards. The Roland LAPC-1/ MT32 offers the best sound quality. Tracks 2 - 13 is the original music from the game played on a Roland LAPC-1. A Creative Soundblaster Audigy was used as recording device. This is how the original soundtrack was meant to sound in those dark times. This soundtrack is almost 100 percent of what Origin meant the music to sound like. The medley on Origin Soundtracks sounds exactly the same as these versions do. It is the full soundscore of all ingame music.
Tom Grandgent has rearranged some Ultima 6 music with his Roland SC-8850, Roland SCC-1 and the sYnerGi 48 soundfond. He did an impressive job on converting these files to a new standard. I only optimized the lenght of the tracks for this compilation. Give his homepage a try. You will also find some other interesting stuff on his site. (Tracks 14-19)
Tracks 20 - 26 are the Amiga versions of Ultima 6. The Amiga conversion took 2 years to bring it to life. With good graphics it missed the speed and playabitlity of the original PC-Version. But its music is rearranged and can be compared to the original soundtrack. Because I´ve grown up with the Amiga 500 and 1200 I still believe in its sound capabilities.
Track 27 is a remixed Amiga MOD of the original Stones done 1994 by an unknown author.
Music
Downloadlist for GETRIGHT.
OGGdecoder for Windows. Decoderfilelist. Simply put these two files in the directory containing the music and start the batch file to convert the ogg-files to burnable wave-files.
If you do not know where to start, try 01-Heroes long gone or 03-Introduction.
Cover
Covers are based on the handbook and hintbook of the Ultima 6 series and the cover of Ulitma 6. Original Artwork by Denis Loubet.
Booklet:

Inlay:

Outside 1:

Outside 2: