Origin Audio CD Volume 3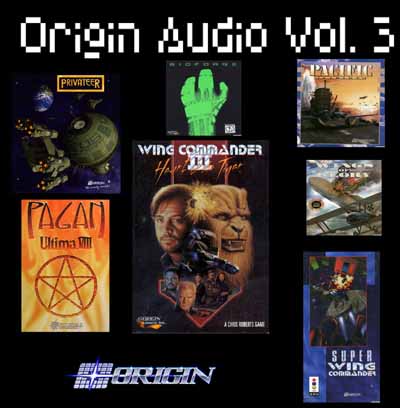 Releasedate: 1994
Publisher: © Origin Systems Inc.
The music was composed, orchestrated and conducted by George Oldziey,Nenad Vugrinec, John Tipton. Paul Baker and Joe Basquez.
Quality: High quality 5 OGG (nominal rate 160)
The Origin Audio CD Volume 3 has been a reward for buyers of the Wing Commander III Limited edition. The only chance of buying this CD is Ebay. Containg music from various Origin games from 1993-1994 in General Midi quality it also features 2 songs from unreleased games which sound very promising.
Music
Downloadlist for GETRIGHT.
OGGdecoder for Windows. Decoderfilelist. Simply put these two files in the directory containing the music and start the batch file to convert the ogg-files to burnable wave-files.
Cover
The ouside/back cover cover is only delivered in my version. All others have beend added.
Booklet:

Ouside:
CD: